How to Flip a House. Want to know how to flip a house for a huge profit? Join the crew! Flipping houses has been on the rise across the nation. In the second quarter of 2021, the number of house flips reached 80,000. That's almost 5% of all home sales or one out of every 20 transactions!
All you have to do is watch an episode of any popular house-flipping show to get why it's so appealing. A 30-minute segment makes it look pretty easy to flip a house and make a huge profit. Seems simple enough, right?
What Is House Flipping?
House flipping is when a real estate investor buys houses and then sells them for a profit. In order for a house to be considered a flip, it must be bought with the intention of quickly reselling. The time between the purchase and the sale often ranges from a couple months up to a year.
There are two different types of house flipping:
An investor buys a property that has potential to increase in value with the right repairs and updates. After completing the work, they make money from selling the home for a much higher price than what they purchased it for. You may have also heard this called a "fix and flip."
An investor buys a property in a market with rapidly rising home values. They make no updates, and after holding the property for a few months, they resell at a higher price and make a profit.
We're mainly focusing on the first fix-and-flip definition and providing you with tips to help you choose a property, make renovations, and sell the smart way.
Is Flipping a House Profitable?
Flipping houses may sound simple, but it's not as easy as it looks. Let's be real: A house flip can either be a dream or a disaster.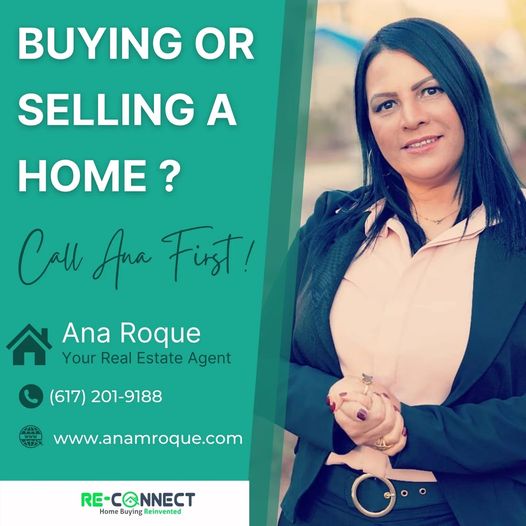 Find expert agents to help you sell your home.
Done the right way, a house flip can be a great investment and incredibly profitable. In a short amount of time, you can make smart renovations and sell the house for much more than you paid for it.
But a house flip can just as easily go the opposite direction if it's done the wrong way. We've all heard house-flipping horror stories—the ones where what seemed like a good deal turned into a house with a shaky foundation and a leaking roof. At the end of the day, a house flip may not make you money. It actually could cost you thousands.
If you decide to flip a house, you certainly don't want to lose money. You want to make a wise investment and reap the rewards. That's why a lot of people call in an appraiser to assess the value and then use the 70% rule to gauge whether it's likely a fix and flip will pay out like they hope.
What Is the 70% Rule?
The 70% rule means that the purchase price of a property should be 70% of the home's after-repair value minus renovation and repair costs. This helps you avoid overspending on a property that will give you little return on your investment. Here's how that looks:
Let's say you estimate a home's after-repair value to be $300,000. Start by multiplying $300,000 by 70% or 0.7.
$300,000 x 0.7 = $210,000
Now, let's say it needs $50,000 in repairs. To figure out the max price you should pay for the home, subtract $50,000 from $210,000.
$210,000 – $50,000 = $160,000
That means the purchase price of the home needs to be no more than $160,000 cash—more on the cash bit later. And if you didn't catch it, that leaves you making a $90,000 profit when you sell the home for its after-repair value at $300,000.
Don't forget to factor in your two favorite things: time and taxes. Using the example above, let's say it takes two years to finish and sell the house flip. That's like earning $45,000 for each year of work. When you factor in long-term capital gains taxes, house flipping probably isn't going to be worth it.
But if it takes you six months to finish the fix and flip, you've made $90,000 in half a year. Now, since you owned the house for less than a year, the profit is counted as a short-term capital gain and taxed at your normal, personal income tax rate, which is higher than the long-term capital gains rate. But this flip is still a sweet deal.
How to Flip a House in 5 Steps
1. Finance the House Flip With Cash
Flipping houses can be a risky business—especially flipping houses with no money. It's easy to see why adding debt into the mix only makes things more dangerous. Here's why we always recommend you flip a house with cash:
No interest fees. House flippers who borrow money may pay interest for months, which only increases the amount they have to sell the house for just to break even.
No rush to sell. Using debt to finance a flip can cause you to act out of desperation. If you can't get the house sold, you're likely to lower your price and cut your profit. Cash-only house flippers can wait out a slow market because they don't have interest payments piling up against them each day it doesn't sell.
No debt to hold you back. Most importantly, doing any kind of "investment" with debt is a dumb plan. Period. Trying to sell a flipped house for more money than you invested in it is already a risk—even with cash. Using debt in the process skyrockets your chance of losing money if there's a hiccup in your plans.
Let's look at an example to see why using debt to flip a house isn't worth it: You take out a loan to purchase a house to flip and all seems to be going great until renovations take six months instead of four. When you list the home, it sits on the market for a month before you're forced to drop the price and sell it for way less than you had planned to.
A month later you close and get your payout. But a huge chunk of your payout goes toward paying back the money you borrowed plus eight months of interest! And that's on top of the usual selling costs like agent commissions, taxes and title fees.
If you'd flipped the house with cash, desperation wouldn't have forced you to sell low. With no interest payments to worry about, you could've held off on selling until the market warmed up and the price was right.
Unless you can pay cash, the financial risk of house flipping is just not worth it.
2. Know the Market
A lot of house flippers get excited about their next project and can ignore this less glamorous side of the business. But if you don't have a good understanding of the market and real estate trends in your area, you could run into the following issues:
You don't know if you're actually getting a good deal on the house you're buying. The sale price needs to be low enough so you can do the renovations and still come out ahead when the house is priced at market value.
You can't accurately identify the home's potential value. Your vision for the home must fit the reality of the neighborhood and the ability of the neighborhood's residents to afford the home you create.
You don't know how to price the house. If you've bought a house in a neighborhood of mostly $130,000–150,000 homes, you'll want to price your flip at the lower end of that range when it's time to sell.
So how do you get a deep understanding of the market that makes for a successful flip? Find a real estate agent with years of experience in your area. Your agent can help you target your home search to the right neighborhoods based on your price point, budget for renovations and desired profit.

You may think that house you found online seems like a steal at $145,000 and has lots of potential. (Just think of what it could look like with a new kitchen!) But if the nicest and biggest house in the neighborhood sold for $160,000 three months ago, any renovations would probably outprice the neighborhood. And you'd be stuck with a house you couldn't sell.
It pays to work with a real estate agent who knows the market like the back of their hand. When you're ready to sell, your agent can use their knowledge to price the house competitively so that you get top dollar. Working with a rock-star agent can help you make a smart investment that keeps your finances on track.
3. Make a Budget for Your House Flip
Don't wait until after you purchase an investment property to make a budget. Know your price range for purchasing a home, making any repairs, completing renovation projects, and paying selling costs before you seal the deal.
Make a list of any cosmetic projects as well as any expensive overhauls like plumbing or electrical problems. If you don't have a background in construction, a contractor can tell you what needs fixing and how much it will cost. Surprise repairs can make or break a flip, so be sure to do your homework here.
When you're under contract, get a home inspection and any other specific inspections you may need. It's always better to spot problems on the front end than be surprised down the road.
4. Invest in Smart Renovations
Dreams of gleaming hardwood floors, on-trend light fixtures and fabulous kitchens with professional-grade stoves can quickly cause your renovations to get out of hand. That's why it's important to know your budget up front and then make sure your updates stay on track and actually boost the value of the home.
Don't forget that big renovations—like kitchens and bathrooms—can easily make or break your flip. Take the kitchen, for example. According to the 2020 Cost vs. Value report, the average amount spent on a major kitchen remodel is almost $68,500.2 The average amount regained from that cost is only around $40,000.3 That's not the kind of ROI you want to see when you're flipping a house.
If you're renovating a house that you hope to sell for $220,000, don't put $60,000 into custom cabinet installations, high-end finishes and that dream kitchen island! Instead, consider a smarter renovation that focuses on refinishing the existing cabinets, adding granite counters and replacing appliances. You'll spend less and have a much higher likelihood of earning back your costs when you resell the house.
While you might invest in a couple big updates on a flip, don't underestimate the power of small tweaks. Things like a fresh coat of paint, updated hardware and new landscaping can make a huge impact!
5. Get Guidance From a Local Real Estate Expert
Can you make money from house flipping? When it's done the right way, you definitely can! In the second quarter of 2021, flipped homes sold for an all-time high median price of $267,000 with a gross profit of almost $67,000.4
Keep in mind that the gross profit doesn't include the amount spent on repairs and renovations. But if you're able to flip with cash and stay in your budget for renovations, it's completely possible to make a great return on your investment.
The key to flipping a house successfully is to do it with cash, make a smart investment in the type of house you purchase, choose renovations in your budget, and sell it quickly. Having a real estate agent on your team helps make all of that happen!
Whether you're buying a house to live in for years or to flip in six months, a quality real estate agent can provide the market knowledge and practical guidance you need to make a smart investment.
Ready to Partner With a Pro?
If you're ready to start flipping houses, make sure you find an agent you can trust.
Source: https://www.ramseysolutions.com/
Are you ready to go to the next step of buying a home and build a legacy for your family?…Let us help you!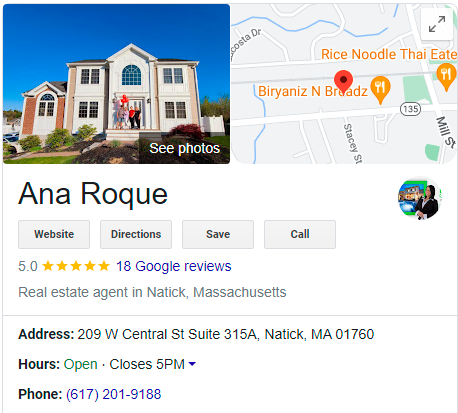 Call now:(617) 201-9188 Ana Roque |209 West Central Street, Natick, MA
I'm an expert REALTOR with RE-Connect, LLC, providing home-buyers, sellers, and investors with professional, responsive and attentive real estate services in Massachusetts. Want an agent with 17+ years of experience, who'll really listen to what you want in a home? Need an agent who knows how to effectively market your home so it sells? Give me a call! I'm eager to help and would love to talk to you. I speak Portuguese (Brazilian), English and Spanish.