Ana's Reviews
9/10/22 Alex Bocalon –  Google Review
Ana is a great professional who goes above and beyond to serve her clients. I strongly recommend Ana if you need a great real estate agent.
8/31/22 Agustin Abella – Google Review
I really recommend working with Ana. Why? Because you will get excelente service she will go above and beyond to help you. If you are looking for someone the you can trust and every step Ana is the person you will need. From me and my family we can said she was a blessing and a pleasure to meet her thank you for all you hard work.? olmost forgot she very passionate and responsible on what she does . Ana you are the best.
5/6/22 Marcos Dasilva – Google Review
She is awesome, really helpful for everything we need!
5/4/22 Flavia Costa –  Google Review
(Translated by Google) Excellent professional! Kind, dedicated, requests and does the job with great excellence. Thank you so much Ana Roque! (Original) Excelente profissional! Amavel, dedicada, solicita e faz o trabalho com muita excelencia. Muito obrigada Ana Roque!
11/25/21Tayse Prado – Google Review
(Translated by Google) First of all, I want to thank Ana and her team for their professionalism and affection with us. I have no words to describe this wonderful person who helped us conquer our home. It was quick and made no effort to help us. Thanks to her in less than 2 months I'm already living in my house. (Original) Quero agradecer em primeiro lugar Ana e sua equipe pelo profissionalismo e carinho conosco. Não tenho palavras para descrever essa pessoa maravilhosa que nos ajudou na conquista da nossa casa. Foi rápida e não mediu esforços para nos ajudar. Graças a ela em menos de 2 meses já estou morando na minha casa.
8/20/21 Mari Hart Photo & Video – Google Review
Ana is an amazing professional and human being. She does her job with passionate and responsibility. Ana is different. She loves what she does. She's dedicated and highly experienced. I recommend and trust her 100%!
7/16/21 Miguel Santiago – Google Review
Ana worked very hard and was on top of things . If I had a question she answered back quickly. I will hire her again in the future. God bless u Ana ?
6/29/21 Arielle Gall Coppi – Google Review
Ana Roque is a great realtor! Helps the client to evaluate the properties and define if it is a good business, which is a great differential! Thank you Ana!
5/29/21Grazy Souza – Google Review
I want to say thank you ,for the best realtor I ever seen in Massachusetts…Ana Roque is spectacular, brave, dedicate, responsible and understood what she does on her job with love , honor and passion. God bless you much more every day . You are rock!! love u grazy souza
5/6/21 André Delegais –   Google Review
(Translated by Google) Highly recommended professional with certification and excellent experience in the real estate market .. I trust that .. (Original) Altamente recomendável profissional com certificação e excelente experiência no mercado imobiliário.. Essa eu confio..
5/4/21 Marinilda Miskalo –  Google Review
Joao and Marinilda If you're ever looking for the best possible real estate agent you can work with, consider ANA ROQUE with the @RECONNECTLLC TEAM. Ana Roque was absolutely instrumental to us finding and getting our house. From the house showing, to bidding, inspections, repair negotiations, contractual details, closing, and every possible question we could throw at her (of which there were many), she was with us every step of the way. She is incredibly knowledgeable and pointed out pros and cons of each house that would have totally escaped us. She never however imposed, but offered her expertise as a guide or counsel, working according to our needs and interests. And on top of all the professional competence, she is as warm, kind, and genuine a human being as they come. Joao and I could not recommend Ana Roque more highly! Thank You so much Ana!!!
5/3/21 Stefane Felix – Google Review
Great professional ❣️
5/3/21 Francis Pierre (BizArchitects) –  Google Review
Working with Ana is quite the pleasure as a commercial loan broker, she is always on top of everything and represents her clients in the best possible way to ensure smooth closings. She has set the bar high for realtor services in New England and look forward to working her for many years to come!
5/3/21 Orlando Mendes –  Google Review
Differentiated professional, always ready to serve. Recommended!
5/3/21BRUNO BERTELI – Google Review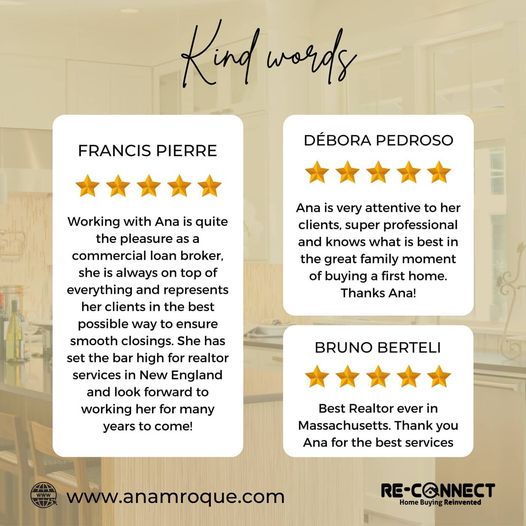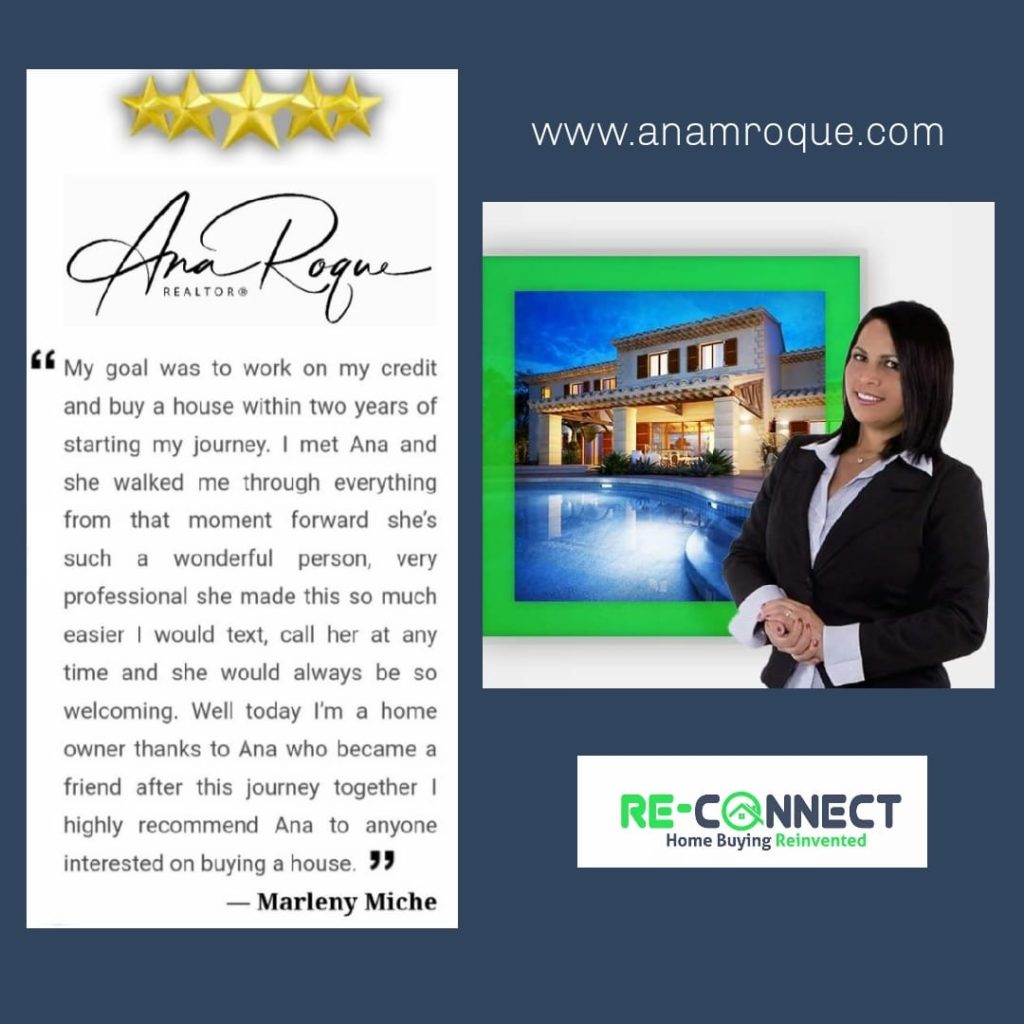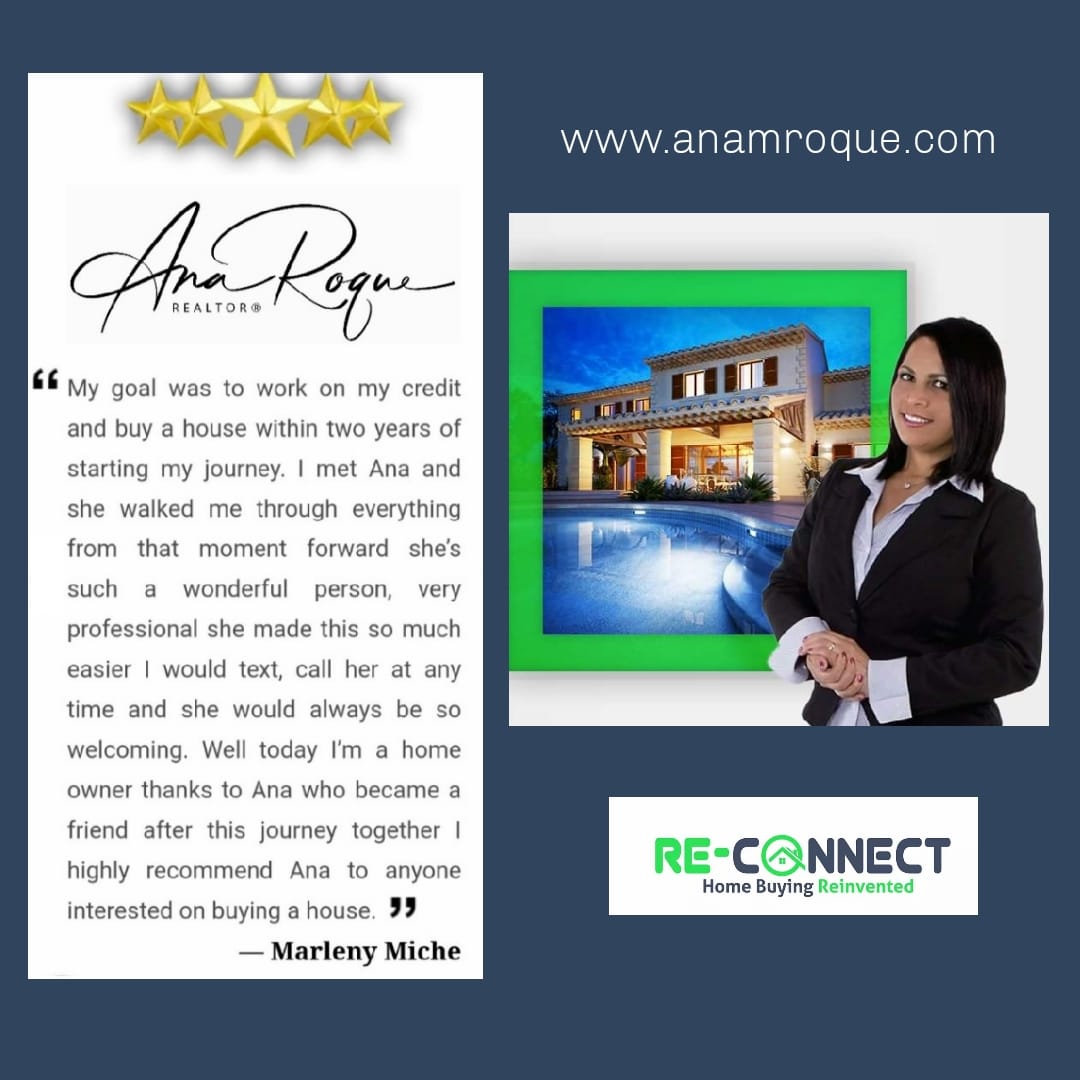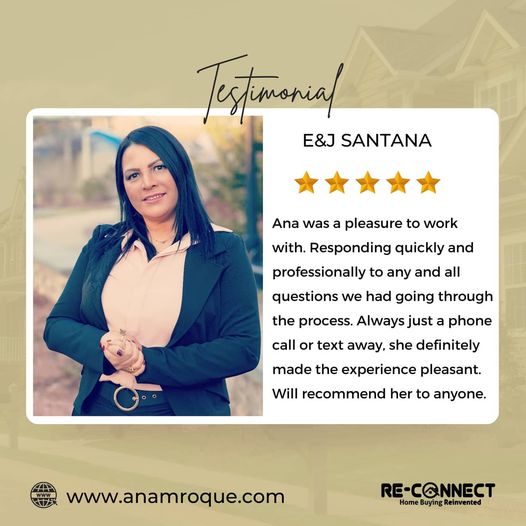 EXCELLENCE IN CLIENT SERVICE ( VIDEO IN ENGLISH AND PORTUGUESE )