Free Home Investors Seminar by Ana Roque
When: Thursday, August 12, 2021
Time: 7:30pm – 9:30pm
Where: Framingham Station Restaurant
417 Waverly St. Framingham. MA 01702
Speakers:
Ana Roque – Realtor / Re-Connect, LLC
Tiago Prado & Jose Brador – BRZ Insurance
Jeane Krieger – Home Inspector
Israel Fermin – Real Estate Attorney
Luke Conroy – Private Lender
Sibia Keila – Fix credit
Please, RSVP for this FREE Event to secure your seat! Limited seats
Contact: 617.201.9188 ( Ana Roque)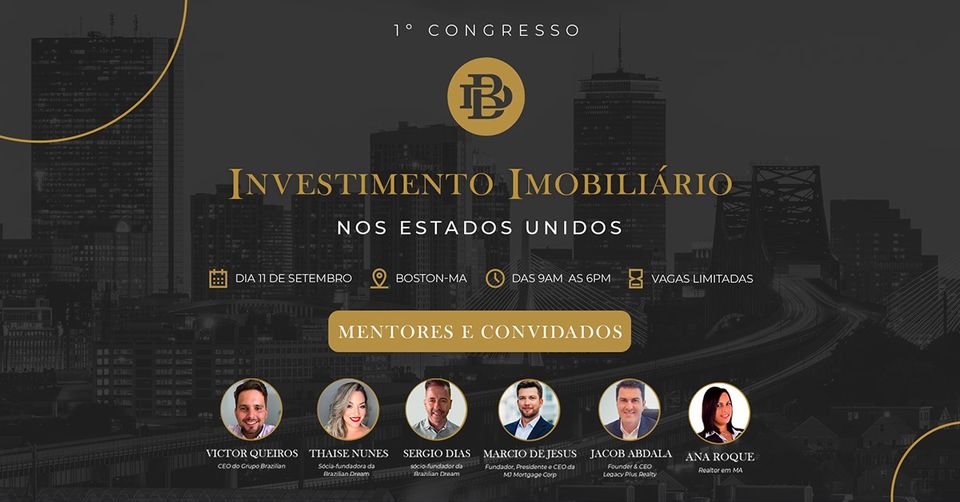 ATENÇÃO BOSTON E REGIÃO!!
Vem aí o "PRIMEIRO CONGRESSO INVESTIMENTO IMOBILIÁRIO"!
Chegou a vez dos investidores brasileiros que querem mudar história, marcar território e criar legados, fazendo a diferença com seus dons e talentos no mercado imobiliário que está bombando!Vai ser incrível!!
Participação especial de palestrantes da área imobiliária nos EUA!! Fiquem ligados nas novidades que estaremos postando!! Vagas limitadas e quem for participar aconselho que faça logo a sua inscrição. Vai ser um grande evento em um local fantástico para networking.
Informações: https://thebraziliandream.com/congresso-investimento/
O que você verá no Congresso
2021 está dispontando como um ano de grande força nessa retomada do mercado pós-pandemia. Vamos trazer temas de grande relevância onde você conhecerá os rumos do mercado imobiliário para os próximos 2 a 5 anos. Os oradores do Workshop são empresários do segmento com extrema experiência em suas áreas. Confira o time de sucesso que vai lhe mostrar a visão do futuro.
ATTENTION BOSTON AND REGION!!
Here comes the ′′ FIRST CONGRESS INVESTMENT "! Yesssss
It's time for Brazilian investors who want to change history, mark territory and create legacy, making a difference with their gifts and talents in the real estate market that is pumping!
It's going to be amazing!! Special participation of real estate speakers in the US!! Stay tuned for the news we will be posting!!
Limited spots, and those who are attending, I advise you to register soon. It's going to be a great event at a fantastic venue to network!
Let us join your journey of getting your dream house!
(617) 201-9188 Ana Roque – Realtor209 West Central Street, Natick, MA
Ana Roque is a Brazilian Licensed Realtor at Re-Connect, LLC with 16+ years of experience in the Real Estate industry.
Ana speaks 3 languages (Portuguese, English, Spanish), Wife, Stepmom, Journalist, Event Director for the National Association of Hispanic Real Estate Professionals (NAHREP) Central MA Chapter.
Ana is a self-motivated, goal-orientated and focused on building her career with partners and develop leadership with excellence to her teamwork as a mission to create a legacy to her clients and children.
WHAT WE OFFER
Buyer's agent | Listing agent | Short-Sale | Foreclosure | Rehab homes | Commercial R.E.