The Most Expensive Neighborhoods in Boston 2022. As some Boston homeowners are considering a move to the suburbs, there hasn't been a better opportunity to buy your place in some of the most expensive Boston neighborhoods.
People moving to relocate are looking to sell their city properties, so if you're in a position to buy your first home or are investing in a second home, Boston's storied properties downtown are finally becoming available.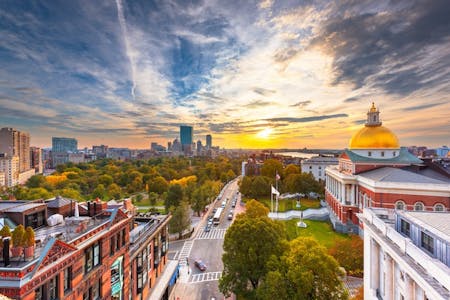 From the North End's historic homes and tight cobblestone streets to the Seaport District's newly developed oceanfront playground, Boston's distinctive neighborhoods appeal to homeowners and investors from all walks of life.
Below we highlight the most expensive neighborhoods in Boston for 2021.
Beacon Hill
Beacon Hill is one of Boston's original neighborhoods, and prospective homeowners can expect historic real estate dating back to the city's colonial roots. For example, buyers can visit Acorn Street, where historic Federal-style row houses on cobblestone streets are adorned with laid-brick sidewalks glow under antique gas lamps.
The Shawmut Peninsula hosted several large hills, one of which served as a foundation for a large Beacon to warn residents of impending raids on the fledgling city. The need for land to accommodate a growing number of residents drove developers to remove the beacon and flatten the hill to clear room for homes on the North and South Slope, as well as the Flat Top of Beacon Hill.
The Flat Top and South Slope is where home buyers or investors seeking luxury properties in Beacon Hill can expect historical living within a cobblestone's throw of Downtown in one of the best Boston neighborhoods. The North Slope is home to young professionals and the Museum of African American History, which details how back in the 1700s, African-Americans established a community that built schools, libraries, churches, and markets on the North Slope.
Seaport District
The development of the Seaport is one of the newest land reclamation efforts in the storied history of building up the Shawmut Peninsula. South of Downtown, the Seaport is home to over 75 restaurants, a myriad of shopping boutiques, and numerous art galleries. After the completion of the Big Dig project, which diverted the I-93 out of downtown Boston, the Seaport was finally accessible. Commercial real estate developers immediately began constructing the Boston Convention and Exhibition Center, the Seaport World Trade Center, improving the Boston Fan Piers, and building over 1,000 residential condo units.
Once the Big Dig came to a close, developers turned the parking lots in the area into the Fan Piers, complete with a waterfront park and four commercial towers housing tech start-ups and incubators for new businesses. Considering the neighborhood's penchant for restaurants and bars serving these office workers, young professionals will find Seaport's proximity to Downtown and the region's vibrant nightlife appealing as a district to rent an apartment or own a condo in Prospective buyers taking a day to explore the luxury real estate in Seaport should make time to check out the Boston Tea Party Museum and the Institute of Contemporary Art.
Source: https://www.prevu.com/
Are you ready to buy your new house?…Let us help you!
Call now:(617) 201-9188 Ana Roque |209 West Central Street, Natick, MA
Ana Roque is a Brazilian Licensed Realtor at Re-Connect, LLC with 16+ years of experience in the Real Estate industry.
Ana speaks 3 languages (Portuguese, English, Spanish), Wife, Stepmom, Journalist, Event Director for the National Association of Hispanic Real Estate Professionals (NAHREP) Central MA Chapter.